Remember when the exciting big bands electrified audiences..... The Denmark Street Big Band recreates the swinging jazz sounds of the Big Band era, performing compositions that span an entire century of music, including standards made famous by Frank Sinatra, Dean Martin, Sammy Davis Jr, Bobby Darin and other legends of The American Song Book.
The shows just keep on coming!
David Sanborn visits!
Hats off to Paul Burch and my kindest wishes for the future."
David Sanborn
Denmark Street, London. Sep 23rd 2014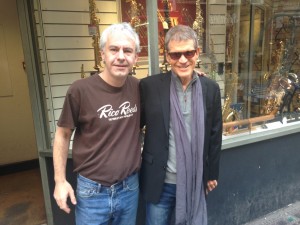 Showreels
About the Band
The Denmark Street Big Band features some of the UKs best musicians and we also have privilege to have some of the worlds finest musicians performing with the band.
Last year we had US sax star's Dave Koz and Jody Espina perform with the band and this year see some of the UK's very best sax players playing with us, including Snake Davis, Nigel Hitchcock and Dave O'Higgins.
Frank Sinatra & The Rat Pack
The Denmark Street Big Band performs a fantastic tribute to Frank Sinatra, Dean Martin and Sammy Davis Jr plus the other great crooners of the 50s' and 60s' that features the incredible vocals of our guest singers.
Using the authentic arrangements of Nelson Riddle, Billy May and Quincy Jones, the band will transport you back to the showrooms of Las Vegas and perfectly capture the wonderful music, sounds and style of this fantastic era of entertainment.
If you would like to book the band to perform our Rat Pack show for your event or wedding please get in touch and we will be happy to discuss your requirements.
How It All Started
The band's Musical Director Paul Burch has put together a big band that creates the same kind of energy, excitement and style of the greatest big band of the past era. Born of the love of Big Band Jazz, sax player Paul Burch began searching for an ensemble of musicians to create a fantastic new big band. During the search he called upon musicians and friends who had played together from his time playing with The Coldstream Guards and playing with bands on-board luxury cruise liners.
Paul has hand picked musicians with impeccable reputations and experience. The band members have performed with some of the biggest names in the music business and have played in many West End Musicals. After assembling the musicians and taking it name from the London street that has been the heart of British music scene, The Denmark Street Big Band was born.